About Southern Heat Exchanger Corp.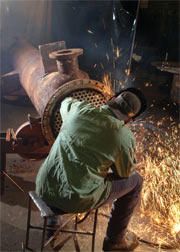 Southern Heat Exchanger Corporation (SHECO) was founded in 1961 for the purpose of manufacturing shell and tube heat exchangers. Today the company has grown into one of the largest manufacturers in this international based industry. SHECO currently has two fabrication facilities located in Tuscaloosa, Alabama and a heat exchanger services division located in Houston, Texas.
SHECO's Plant One in Tuscaloosa is a full service heat exchanger facility which has state-of-the-art equipment and highly skilled employees. This Plant's equipment includes several Quickmill machines and G&L machines. The staff at this plant includes 105 skilled tradesmen working on the floor in the shop. Another 30 support, administrative, engineering, and other disciplines of employees are on-site as well. Plant Two has 10 people working on the floor on OCAP and shell and tube heat exchangers at any one time. There are also 6 support and administrative persons based at this Plant.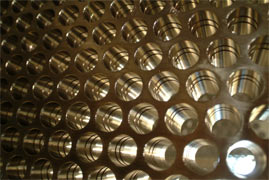 Currently Plant Two is located about a mile down the road from Plant One. SHECO, and its service arm Southern Heat Exchanger Services (SHES) are market leaders, providing the NDA Group with a springboard into a range of new client opportunities.







6100 Old Montgomery Hwy Tuscaloosa, AL 35405| Phone: 205.345.5335 | Fax: 205.345.0009