Heat Exchanger Manufacturers

---

Plant 1
6100 Old Montgomery Hwy
Tuscaloosa AL

---

Plant 1 is our primary plant where we perform most of our drilling, fitting, and assembly of shell and tube heat exchangers.

---

Plant 2
600 Waco Road
Tuscaloosa AL

---

Plant 2 is where plate cutting, plate rolling and sub assembly tasks are performed as well as light heat exchanger assembly. In addition to shell and tube projects, we also manufacture OCAP or Open Air Channel Preheaters in this facility.

---

Houston

Houston TX

---

The SHECO Services facility was opened in Houston, Texas in 2003. The SHECO Services division was started to meet the growing needs of the heat exchanger repair industry. Heat exchanger repairs of all types, including air coolers and field service operations are performed at this location. As this division has grown so have its capabilities, new shell and tube heat exchangers of all types are now manufactured here as well.
---
BUILDING BAYS AND CRANE DATA

Bay Dimensions
Type Crane
Number
Capacity
Height under Hook
Electric or Manual
50' x 300'
Bridge
2
50 Tons
28'
Electric
40' x 300'
Bridge
3
30 Tons
20'
Electric
40' x 300'
Bridge
2
15 Tons
35'
Electric
40' x 300'
Bridge
1
5 Tons
35'
Electric
70' x 290'
Bridge
1
5 Tons
18'
Electric
12' x 180'
Used for Storage
8000 sq ft.
Outside Concrete Pad
800 sq. ft.
Sand Blast House
---
SIZES AND WEIGHTS THAT CAN BE HANDLED

Maximum
Minimum
Shell Plate Thickness
3 Inch
TEMA
Diameter
120 Inch
2 Inch
Length
60 Feet
N/A
Weight
180,000 lbs. plus
N/A
---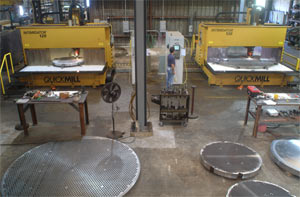 MANUFACTURING EQUIPMENT AND DATA

MACHINE TOOLS
Maximum Size and Type
Machining Centers:
One Giddings and Lewis CNC
Drilling Machines:
Two Quickmill 96x96 Intimidators
Two Radial Drills
Two Quickmill 120x120 Intimidators
Vertical Boring Mills:
Four, 74 inch (2 of these), 54 inch, 42 inch
Engine Lathes:
Two, 28 inch, 20 inch
Plasma Table:
Messer 120x480
Laser Cutter:
Mitsubishi LVPlus II 40CFX 120x60
---
CUTTING EQUIPMENT

Number
Capacity
Plate Shears:
2
5/8 inch
Automatic Flame Cutting:
2
Unlimited
Plasma Arc:
3
1 inch
---
FORMING EQUIPMENT

Plate Rolls:
Three , Max. Capacity 1" inch x 10 ft.
Hydraulic Punch:
One 40 Ton Punch
---
WELDING EQUIPMENT

Welding Machines:
Multiple AC-Current Range 0 to 1200 amps
Welding Positioners:
Multiple Power
Shell Turning Rolls:
Multiple Power and Manual
Automatic Welding:
Multiple Hobart Cyber TIG, and Submerged Arc
Miscellaneous:
Strip Overlay Welder, TIG, MIG
---
NONDESTRUCTIVE TESTING EQUIPMENT

Helium Leak Testing:
Varian Mass Spectrometer
Liquid Penetrant Inspection:
Aerosol Type (Color Contrast)
Radiography Inspection:
X-Ray (Gamma Ray)
Pressure Testing:
Water: Max. Pressure = 10,000 PSI
---
SANDBLASTING AND PAINTING
On Site
---
SHIPPING FACILITIES

Railroad:
Kansas City Southern
Truck:
Common Carrier and Contract
Southern Heat Exchanger Corporation was founded in 1961 for the purpose of manufacturing shell and tube type heat exchangers and today has grown into one of the largest manufacturers in that industry.
This sole dedication of purpose has established Southern Heat Exchanger Corporation as a fabricator with modern equipment and a thermal and mechanical design capability geared to provide efficient solutions to unique heat transfer problems.
The wide range of Southern Heat Exchanger capabilities include fabrication of all the 300 and 400 series stainless steels, nickel alloys, copper alloys, titanium, Inconels™, Hastelloys™, 7-Mo PLUS™, 254SMO™, 904L as well as carbon steel.
Inconel™ is a registered trademark of Inco Alloys International
Hastelloy™ is a registered trademark of Haynes International
7-Mo Plus™ is a registered trademark of Carpenter Technology Corp.
254SMO™ is a registered trademark of Avesta Stainless, Inc.
6100 Old Montgomery Hwy Tuscaloosa, AL 35405| Phone: 205.345.5335 | Fax: 205.345.0009