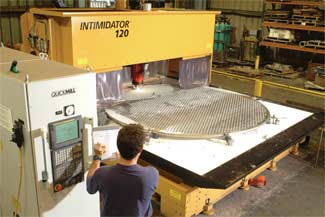 Drilling equipment is numerically controlled to insure the accuracy required for baffles and tube sheets unique to heat exchangers. This capability includes heavy duty drilling capacity that has the ability to accurately drill tube sheets up to 10" thick and 120" in diameter. Close tolerances on these machines are easily held. Modern welding equipment, including multiple submerged arc, allows efficient and smooth welding of heat exchangers for all sizes from 3" pipe to 120" plate shells. Welding capabilities, including TIG, MIG, SAW, SMAW, FCAW with a variety of wire and fluxes, can be utilized to meet the most sophisticated weld procedures. This capability is supported by a weld engineering group who stay on top of the latest developments in this continually changing technology.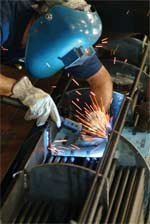 Southern Heat Exchanger Corporation utilizes the latest in modern metal forming and cutting equipment to insure precise adherence to dimensions and close tolerances.

Qualified ASME Welders and an extensive radiographic capability support all types of ASME Section VIII construction, including lethal service requirements.
Heat treating facilities are also readily available. Tube-Tube sheet welding utilizes modern computer controlled machines that make the tube to tube sheet joint in a uniform manner, with and without filler metal as the procedure requires.

Tubes are expanded into tube sheets at a uniform rate using the most current technology to assure consistent expansion and leak-tight joints.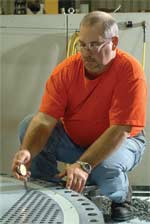 Before Southern Heat Exchanger Corporation's nameplate is placed on any finished product, the exchanger has been carefully inspected throughout the production process by our highly trained quailty control department. Each heat exchanger is fully supported by ASME Code forms and material test certificates that attest we are producing a thoroughly engineered high-quality product. In addition, ASME Authorized Inspectors witness all tests and documentation prior to shipment.

Consider Southern Heat Exchanger Corporation before your next heat exchanger purchase.